Online Services
Online Services
S.C.I. Federal Credit Union strives to make your online experience an easy one. There are a number of services you can utilize or apply for while visiting our site.
NetTeller
Our Secure Online Account Access Service. You can inquire on your accounts and loans, look at history on accounts and make transfers between share accounts 24 hours a day. You can also make loan payments online, as well as view and print cleared checks simply by clicking your mouse on the check number you wish to view. E-Statements There is no need to store all those paper statements any more. Simply sign on to your NetTeller account and click on "E-Statements" under the "Services" heading. You can download your monthly and quarterly statements and have them accessible for viewing or printing at your convenience.
NetTeller (new window/tab)
Access your S.C.I. Federal Credit Union accounts 24 hours a day, 7 days a week. Why stand in line when you can go online.

Mobile App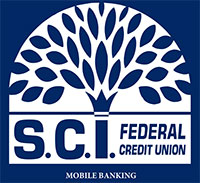 Download our new App for iPhone and Androids, SCI FCU Mobile. Simply go to your App Store on your mobile device, search "SCI FCU Mobile", and download the App with the Logo as pictured above.  The link to the SCI FCU Mobile App can also be reched by clicking on the appropriate Google Play or iTunes logo above.
SCI FCU Mobile will give you ease of access on your mobile devices such as smart phones and tablets. Try it today!
Check Reorder
Check Reordering (new window/tab)
Reorder your Liberty checks online, it's fast and easy.
Calculators
Calculators
Try our interactive calculators. You can calculate loan payments, investment earnings, and much more.
Other Services
Other Services
Share Savings Accounts
No Minimum Balance Checking
Overdraft Protection
Courtesy Pay for Share Draft (Checking Accounts) (Some restrictions and fees apply)
Share Certificates
Individual Retirement Accounts
Traditional, Roth, Coverdell ESA (Education)
New or Used Automobile Loans
New or Used Motorcycle Loans
New or Used Recreational Vehicle Loans
New or Used Boat Loans
Line-of-Credit Loans
Member Pay Credit Disability Insurance
Member Pay Credit Life Insurance
$1,000.00 free accidental and dismemberment insurance
Free Financial Counseling
Payroll Deduction
Direct Deposit/Net Pay
ATM/VISA Check Card
On-line Financial Services
Seasonal
Carowinds Tickets
Six Flags Tickets
Contact us for details on these services and more!